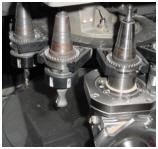 ..our state of the art machining centers solve problems which required several machines in the past.....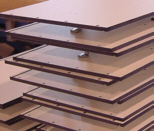 ..solid phenolic locker components

Accent Manufacturing, Inc
105 Leavesley Road,
Bldg 3D
Gilroy, CA 95020
USA

408-846-9993 (ph)
408-846-9913 (fax)
Contract services
Accent Manufacturing offers quality contract manufacturing support for the laminate and wood products industry.


We maintain state of the art CNC machining centers, edgebanders, panel saws, high speed postforming and prototyping equipment.





Cut to size

Our cut-to-size services are supported by medium and high volume panel processing equipment. We offer rip processing to finished part cutting services.



Edgebanding



We stock over 300 edge treatments in .020 and 3mm pvc, wood veneer and solid wood nosing. We operate two edgebanders with profile trimming, buffing, infeed tenoning, glue scrapers, sanding stations and more.


Our edgebanding services also include laminate edge, adhesive color matching and excellent turn around times.





CNC boring/routing



Our boring and routing services include line boring, routing, sawing, vertical and horizontal boring, plunge, slot and more.



Postforming



For postforming we maintain a high speed rigid glue line postformer.
Working to your specifications, we fabricate single and double sided, 90-deg or 180-deg postformed blanks up to 144 inches.



Assembly/Design
and Prototype



Accent Manufacturing offers additional value added services for assembly, product design and prototyping.

PDF



E-Mail
Inquiry